Cement has a problem
While clinker makes less than 15% of the total mass of concrete, it is responsible for over 90% of the carbon footprint of concrete. For every tonne of clinker produced, nearly a tonne of CO2 is emitted. Clinker is made when limestone and clays are heated together in a kiln at 1,450oC. Only one third of the CO2 emitted comes from the energy to heat the kiln and other energy intensive processes. In other words, even if clinker was produced using entirely green energy, the carbon footprint of clinker would only reduce by one third. 
The remaining two thirds comes from the chemical reaction when the limestone breaks down inside the kiln from CaCO3 to CaO (quicklime) and CO2. These are known as process emissions.
Carbon capture technology is widely promoted as the solution to process emissions. While it will have a role to play in the future, this technology is as yet unproven at scale and is unlikely to make a significant impact in the global cement industry before 2040.  It will require dedicated infrastructure, enormous investment, and substantially increase the energy demand of cement manufacture. It cannot align the industry with a 1.5°C warming target.
If we are to achieve deep and rapid decarbonisation in the cement and concrete industries in the short term, major reductions in the amount of clinker used in cement are essential. Subtract the pollution. Add the solution.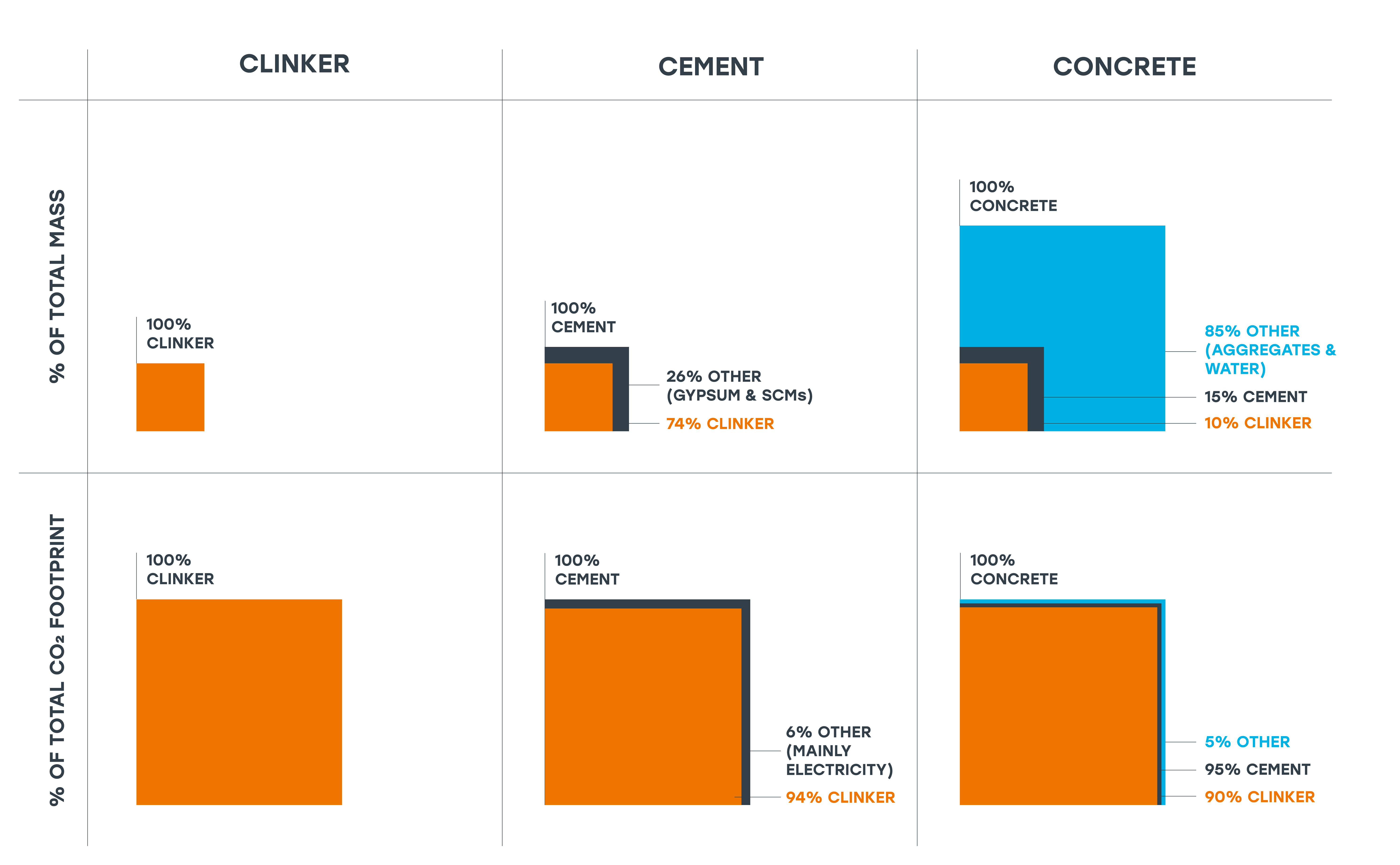 We have a solution
We have developed and delivered 20 million tonnes of low carbon cement in a range of formulations, preventing further release of 16 million tonnes of CO2 emissions to the atmosphere. How? By using low carbon alternatives, which allow the amount of clinker – the key source of CO2 emissions in cement – to be reduced significantly.  Our products emit just a fraction of CO2 per tonne, compared with traditional cement.
The biggest obstacle to the rapid decarbonisation of the cement industry has been scalability of low carbon cements. The materials used historically to produce them are relatively scarce. We have overcome this obstacle by accelerating the development of breakthrough, scalable technologies and products that can deliver a transformation in the decarbonisation of the cement industry. 
Partial or full substitution of traditional cement with scalable cementitious alternatives is the most cost-efficient way of decarbonising the cement industry. It can use existing facilities and the raw materials already widely available across the industry today.
And our focus has paid off.  
Our new ultra-low carbon cement has a carbon footprint of only 80kg CO2/t, the lowest carbon cement ever used in Europe within major projects, reducing the CO2 footprint of cement by over a factor of eight. Our mission now is to get these low carbon cements to scale in a way that has never been achieved. The results are convincing. And we're excited about what we've developed.